Tuesday, February 14th, 2017 -
News
Saying farewell to 2016 and welcoming "Nonsense and Heartache"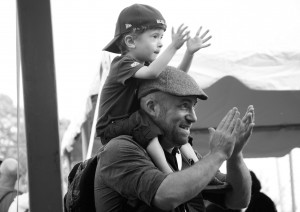 To celebrate the end of another great year living in Toronto I recorded a song called "Benson Ave" and put together a fun video of highlights from our travels. The new tune is a funky instrumental featuring friends and colleagues Alan Zemaitis on the Hammond organ, Chris Butcher on trombone, and Marito Marques on drums. You can download it for free on Soundcloud and click here to watch the video.
Now the big news from Jerry Leger…
March 31st is the official release date of a double-record entitled "Nonsense and Heartache". In anticipation Latent Recordings/Warner Canada shared a preview song entitled "The Big Smoke Blues" produced by Michael Timmons of the Cowboy Junkies. Click here for a little information about the new record and tours.
Leger describes the album himself by saying, "…it's really two different records – Nonsense and Heartache – packaged into one…one album as electric, bluesy, dirty rock and roll, with James and I on electric guitars, Dan on electric bass and Kyle bashing away. The other album was intended to be more of a singer/songwriter record with me on acoustic guitar or piano, James on fiddle or lap steel, Dan on upright and Kyle using brushes and percussion."
Jerry Leger & The Situation filmed 6 cover songs with videographer Mitch Fillion of Southern Souls. Thus far we have released 4 of the videos on YouTube, one for every week of January's Cameron House residency. We filmed songs by David Bowie, Leonard Cohen, Jeff Tweedy (Mavis Staples), Cowboy Junkies, Lou Reed (Velvet Underground), and Lightning Hopkins.
On a sad note, Rob Stewart, friend and producer of the films "Sharkwater" and "Revolution", has died during a deep ocean dive. He was a great guy. We met through a mutual friend and worked closely together on music for Sharkwater. He always made me feel included. We became friends. His films were visually stunning and intelligent, spreading awareness to a variety of issues involving the human impact on the oceans and the environment. I admired his focus and dedication. He will be missed and the world is a much better place for his efforts.
In closing I would like send a warm congratulations to all my friends who received nominations at the Juno and Grammy awards. The list gets longer every year and I could not be more proud of our community. A memorable moment last summer was when Quique and the band played a set with this year's Grammy winner for "Blues Album of the Year" Colin Linden at a Mariposa Folk Festival workshop. He is a major guitar and songwriting influence and I have to say he is every bit as cool in person!
Thank you all for your continued support and see you at the club!