2015 World Music Album of the Year – Winner!
Comp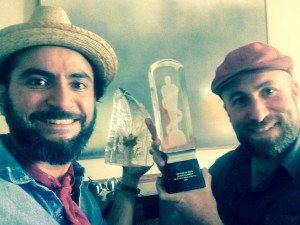 adres! It has arrived! This is a photo of Mr. QuiQue Escamilla holding his 2014 CFMA (Canadian Folk Music Award) for World Solo Artist of the Year, and I am holding the JUNO award for QuiQue's album "500 Years Of Night."  Click on the album's name to download it from iTunes along with a 16 page booklet of lyrics and very powerful photography. The album brings to light issues of human rights around the world and more specifically for the indigenous people in Chiapas, Mexico, and the EZLN and their struggle to attain these rights for the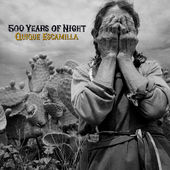 people. I am very proud of this record, the variety of songs, and I'm sure I can speak for everyone when I say how excited we are about the attention it has received here and abroad. QuiQue and I are touring again with the band this summer, playing festivals, and you can follow our tour schedule and all the rest of my shows here in the LIVE SHOWS section. 2015 Summer festival season is in full swing. Hooray!